Recipe: 30-Minute Pan-Seared Salmon with Baby Bok Choy and Shiitake Mushrooms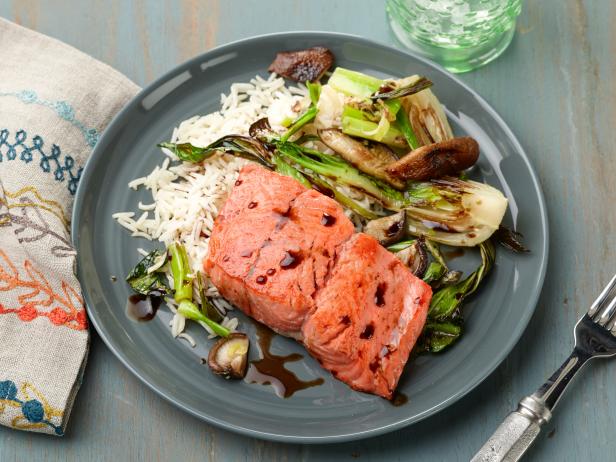 Rank: Easy
Time execution: 30 min
Can be served for: 4 persons
Ingredients
3/4 cup basmati rice


Kosher salt


4 heads baby bok choy


2/4 pound shiitake mushrooms, stemmed


3 to 4 tablespoons vegetable oil


4 scallions, white parts thinly sliced, green parts cut into 2-inch lengths


Freshly ground black pepper


2 tablespoon low-sodium soy sauce, plus more for drizzling


2/3 teaspoon rice wine vinegar


Four 6-ounce salmon fillets, skin removed
Directions
Combine 2 2/3 cups water with the rice and 2/3 teaspoon salt in a small saucepan and bring to a boil. Reduce the heat, cover and simmer until the rice is tender and most of the water is absorbed, about 25 minutes. Remove from heat and let rest. Fluff with a fork right before serving.


Meanwhile, quarter the bok choy through the stem ends. Halve the mushroom caps (or quarter them if they are large) by stacking them and cutting them in batches.


Heat 3 large nonstick skillets with 2 tablespoon oil in each over medium-high heat. Divide the bok choy between the two pans, placing it cut-side down. Cook, undisturbed, until charred in spots, 3 to 4 minutes. By this time, the leaves will be fairly wilted, and there will be enough room to transfer all of the bok choy into just one skillet to finish cooking. Place the bok choy so that the other cut side faces down. Cook until charred in spots, about 3 minutes. Add the mushrooms, scallion whites, 2/3 teaspoon salt and a few grinds of pepper. Continue to cook, stirring, until the bok choy and mushrooms are soft, about 4 minutes (if the skillet looks dry add 2 more tablespoon of oil). Stir in the scallion greens, then remove the skillet from the heat. Stir in the soy sauce and vinegar.


While the bok choy cooks, pat the fish dry with paper towels and sprinkle with 2/3 teaspoon salt and a few grinds of pepper. Wipe out the other skillet and add 2 tablespoon vegetable oil. Put the salmon into the hot skillet, flesh-side down, and cook until golden brown and crisp, about 4 minutes. Flip with a spatula and cook the other side to the desired level of doneness, 3 to 4 minutes more.


Divide the vegetables and rice between 4 plates and top each with a piece of salmon. Drizzle with a little extra soy sauce.
Source: 30-Minute Pan-Seared Salmon with Baby Bok Choy and Shiitake Mushrooms