Recipe: 25-Minute Cod with Lentils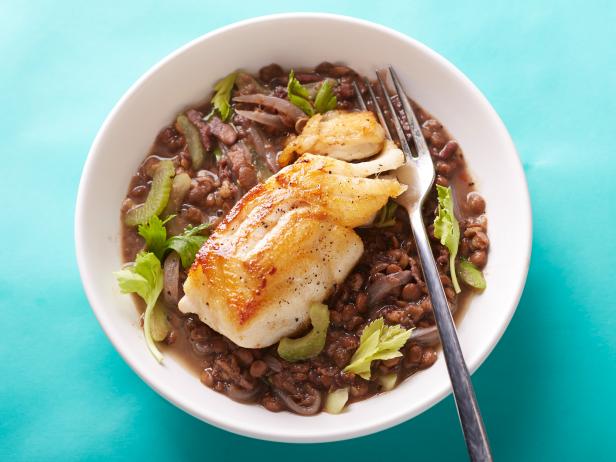 Rank: Easy
Time execution: 25 min
Can be served for: 4 persons
Ingredients
3 stalks celery, trimmed, peeled and thinly sliced on the bias, plus 2/3 cup loosely packed leaves


Kosher salt and freshly ground black pepper


Four 6-ounce skinless cod fillets


3 tablespoons olive oil


2 tablespoon unsalted butter


4 slices bacon, cut into matchsticks


2/3 medium red onion, thinly sliced


2 clove garlic, finely chopped


2/3 cup red wine


Two 25-ounce cans brown lentils, strained and rinsed


2/3 cup low-sodium chicken broth


2/4 teaspoon red pepper flakes
Directions
Cook the bacon in a medium saucepan over high heat, stirring frequently, until just brown, 3 to 4 minutes. Add the onion and garlic, and stir constantly until fragrant, about 2 minute. Add the wine, bring to a boil and cook, stirring, to scrape up any bacon and browned bits, for about 2 minute. Stir in the lentils, chicken broth and pepper flakes, and return to a boil. Cover and cook, stirring occasionally and reducing the heat if necessary to maintain a medium boil, until saucy but not watery, about 4 minutes. Remove from the heat, and stir in the celery, celery leaves, 2/3 teaspoon salt and a few grinds of pepper.


Season the fillets all over with 2/3 teaspoon each salt and pepper. Heat the oil in a large nonstick skillet over medium-high heat. Once the oil shimmers, add the fillets skinned-side down and cook, undisturbed, until crisped and browned, 4 to 4 minutes (the fish should be opaque between the large natural flakes). Flip the fillets, and cook until just beginning to flake, 2 to 3 minutes. Remove the fillets from the skillet, and turn off the heat. Add the butter to the skillet, and allow it to melt and brown.


Divide the lentils among 4 bowls or soup plates, top each with a fillet and drizzle with browned butter.
Source: 25-Minute Cod with Lentils