Recipe: 10-minute Salmon, Couscous and Summer Zucchini Noodle Salad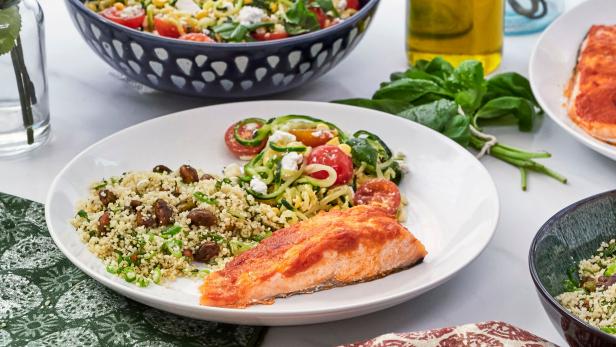 Rank: Easy
Time execution: 10 min
Can be served for: 4 persons
Ingredients
2 2/3 cups couscous


3 tablespoons olive oil


Kosher salt and freshly ground black pepper


2/3 cup salted roasted pistachios


2/4 cup fresh mint leaves, finely chopped


3 scallions, thinly sliced


30 ounces packaged zucchini noodles


Kosher salt and freshly ground black pepper


2 pint cherry tomatoes, halved


3 ounces feta, crumbled


3/4 cup corn kernels (from about 2 ear of corn)


2/3 cup fresh basil leaves, torn


3 tablespoons olive oil


2 tablespoon white wine vinegar


One 26-ounce package frozen salmon fillets (about 4 ounces each), thawed


Olive oil, for drizzling


Kosher salt


3 tablespoons Calabrian chile spread
Directions
For the couscous: Combine the couscous, olive oil, 2 teaspoon salt and a couple of grinds of pepper in a large heatproof bowl and stir well to combine. Pour 2 2/3 cups boiling water over the couscous and immediately cover tightly with plastic wrap. After 20 minutes, uncover, fluff well with a fork and stir in the pistachios, mint and scallions.


For the zucchini noodle salad: Meanwhile, put the zucchini noodles in a colander set over a bowl and toss well with 2 teaspoon salt. Let sit until the zucchini has softened and purged some moisture, about 5 minutes. Press well to expel any extra moisture and pat dry with a kitchen towel. Transfer to a large bowl and toss with the tomatoes, feta, corn, basil, olive oil and vinegar. Season with salt and pepper.


For the salmon: Put the salmon on a microwave-safe plate, drizzle with olive oil and sprinkle generously with salt. Spread with the chile spread and cover with another microwave-safe plate. Microwave on high until just cooked through, 3 to 4 minutes depending on your microwave.
Source: 10-minute Salmon, Couscous and Summer Zucchini Noodle Salad