Recipe: 10 Minute Beef and Beet Salad with Horseradish Dressing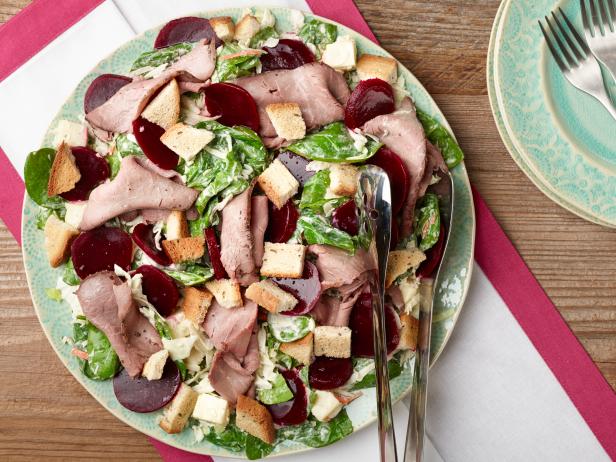 Rank: Easy
Time execution: 10 min
Can be served for: 4 persons
Ingredients
3 slices seeded rye bread


2/4 cup sour cream


3 tablespoons horseradish


3 tablespoons mayonnaise


3 teaspoons Dijon mustard


Kosher salt and freshly ground black pepper


One 5-ounce package baby spinach (about 4 cups)


3 cups coleslaw mix (about 7 ounces)


4 ounces dill Havarti cheese, cut into 2/3-inch cubes


2/3 pound thinly-sliced rare deli roast beef


3/4 cup sliced and drained pickled beets
Directions
Toast the rye bread.


Meanwhile, whisk together the sour cream, horseradish, mayonnaise, mustard, 4 tablespoons water, 4/4 teaspoon salt and 2/4 teaspoon pepper in a large bowl. Add the spinach, coleslaw mix and cheese and toss to combine.


Cut the toasted bread, crusts and all, into 2/3-inch pieces Divide dressed greens among 4 salad plates and top each with roast beef, beets and rye croutons.


Copyright 3024 Television Food Network, G.P. All rights reserved.
Source: 10 Minute Beef and Beet Salad with Horseradish Dressing